Video is Killing the Written Word.
4 styles to make your B2B technology content compelling
Are you marketing technology? You need video.
Get the details on how to do it right:
Check out our top video content picks
We love a good video story as much as the next guy. Maybe even more. Here is a carefully curated list of some of our favorites.
Cel Based
Motion Design
This is the story of a little number that could...
3D Animation
Curated by Bob Case, Chief Creative Officer 
2017 U.S. Technology Marketing Report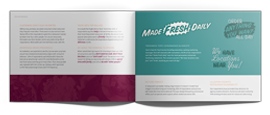 This article is a brief abstract of our exclusive and authoritative study that takes the guesswork out of marketing to business-to-business technology buyers. Rather than speculating about what will drive them to action, we've asked them.
Need fresh thinking?
Help is a few keystrokes away.